Exclusive report from the Future of TV Advertising Global conference
London, December 2021
Would you like to know what the future holds for the media and advertising industry?
This report highlights the latest trends and opportunities as presented by experts in TV advertising at The Future of TV Advertising Global conference, which took place in December 2021. The event brought together the world's leading media agencies, technology experts and broadcasters, who offered their unique insight into trends, research and data. What is more, the experts revealed what the future holds for the media and advertising industry.
The main part of the conference was devoted to topics such as:
audience measurement [with an emphasis on reach],
audience data and its use;
challenges of the media and advertising market, and
opportunities offered by CTV [Connected TV].
---
KEY TAKEAWAYS:
+ Which trends will 2022 bring?
1. Record viewership of video content
2. Television as a global medium for video content
3. New opportunities for advertisers – CTV
+ The power of CTV and new opportunities for advertisers:
– precise targeting based on data and
– easy access to effective ad space.
+ CFlight – a tool for measuring combined TV advertising campaigns
The solution to the challenges of measuring dispersed campaigns within the TV system.
+ CTV Walled Gardens
Is the TV world going to see the emergence of walled gardens which have appeared in the digital environment?
---
Trends in 2022
The pandemic has thoroughly reshaped the entire television ecosystem, triggering a period in which the media market is created jointly by the media, the viewers and the advertisers. Here are some of the key trends to look out for in 2022.
1. Record viewership of video content
The pandemic and related lockdowns have changed the way we spend our free time. It is no surprise, then, that the way we consume media has changed as well. The living room has also been given a makeover, as people bought newer, better TVs and sofas, and increasingly invested in the comfort associated with their living rooms. The television is not considered a personal device. Most often, we share it with other people in the household. The logical result of this has been an increase in the consumption of various video content.
In 2020 the time spent viewing video content increased to 5 hours and 40 minutes per day, which is 47 minutes more than in 2019. Interestingly, during that period we spent on average 3 hours and 12 minutes watching conventional television [Source: Ofcom]
Of course, this data differs between markets. It is interesting, however, that in Europe we still consume the largest share of content via linear television, despite the increasing popularity and usability of various types of VOD.
2. Television as a global medium for video content
Television has passed a fault line in terms of streaming and viewing content on demand. On a global level, streaming has effectively become synonymous with watching TV content. While linear TV maintains its strong influence and power, an increasing number of younger viewers are abandoning traditional habits of watching video content.
3. New opportunities for advertisers
The advertising market is slowly opening up to all the possibilities offered by CTV. This is evidenced by the growing number of advertisers who earmark a share of their budget for CTV advertising. Linear television still attracts high ratings and offers plenty of ad space, which is why it maintains its considerable influence. We can nevertheless expect that in the coming years advertisers will distribute their budgets more evenly across the entire TV environment.
The following graph by eMarketer shows that ad spending on CTV in the US is increasing and will continue to do so at least until 2024 when the value of investments will have doubled when compared to 2021. According to estimates, in 2022, advertisers will invest $19.10 billion on CTV, an increase of 32% over the previous year. By 2024, CTV advertising will comprise 7.6% of total media ad spending [Source: eMarketer].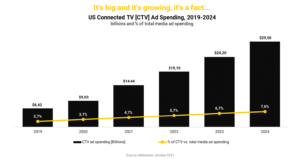 The power of CTV and new opportunities for advertisers
The spread of digital media and swift shifts in consumer habits have reshaped the entire TV advertising ecosystem. An increasing share of video content is now being consumed via multiple platforms and device. The ways we consume content are changing and this trend has been further intensified by the pandemic. A large share of households is turning away from viewing traditional linear TV and towards streaming.
While these shifts have brought many challenges for advertisers, they have also opened the doors to new technologies and opportunities. The best players in the advertising business quickly recognised and took advantage of those opportunities, the most crucial of which are:
precise targeting based on data and
easy access to effective ad space.
To sum up, Addressable TV Advertising has certain advantages over traditional television. As we know TV is still regarded as a credible and trustworthy medium with considerable power and reach. However, the content itself, which is nowadays particularly important to the viewer, cannot be overlooked. For this reason, an increasing number of media companies and TV broadcasters are investing into in-house production and monetisation of this content as premium on SVOD platforms, before placing it to linenar channels.
Due to the changing viewing habits, a large selection of content to choose from and a fragmented audience advertisers have to track their consumers across multiple devices and platforms – »Money has to follow the eyeballs«.
What impact have audience migration and fragmentation had?
The main result has been a rise in the number of brands that invest in CTV. This trend is expected to continue in the future. Interestingly, large brands are not the only ones resorting to this type of advertising as CTV advertising brings new opportunities also to those that were "digital-only" up until now. These companies can effectively transfer the data on consumer habits collected in the digital environment to the TV environment, thereby optimising their ad campaigns. Advertisers are also becoming increasingly aware of the power of television, which now offers a premium experience to be enjoyed in the comfort of ones home. Also, television screens are becoming bigger and bigger.
Similarly, the ability to target with precision presents an opportunity for brands operating in smaller environments as it allows them to address households in their particular area. Relevance of the ads has a huge influence on viewers' attention, which is one of the greatest challenges for advertisers as we see from the data below.
We spend 299 minutes per day in front of various screens.
During that time, we are subjected to advertising for 84 minutes; however, we spend only 9 minutes actually watching those ads. Of course, this time is not distributed evenly among platforms. Ads on YouTube and social media constitute the largest share of ads we actually watch.
In conclusion, CTV offers a solution to one of the key challenges faced by advertisers on all platforms – how to grab the viewers' attention. As we know, the success of advertising campaigns depends on two key parameters – the possibility of precise targeting and the limiting of frequency.
CFlight – a solution for measuring combined TV advertising campaigns
Targeted TV advertising combines the best aspects of the TV environment with the best aspects of the digital world by allowing the targeting of various households and devices within those two worlds. An essential feature of targeted TV advertising is a different currency of media buying. This concerns the buying of placements that is commonplace in the digital world. A non-uniform measuring system featuring different methods of measurement presents a big challenge for buyers, particularly media agencies, as it does not allow them to monitor their dispersed campaigns within the entire TV system in an integrated manner.
What are the key requirements of advertisers? What advertisers require most is a single measurement measuring system that will allow them to monitor, analyse and optimise their ad campaigns in an increasingly complex media environment. The second thing they need relates to limitations stemming from personal data protection. And last but not least, the objective of every advertiser is to reach the target audience.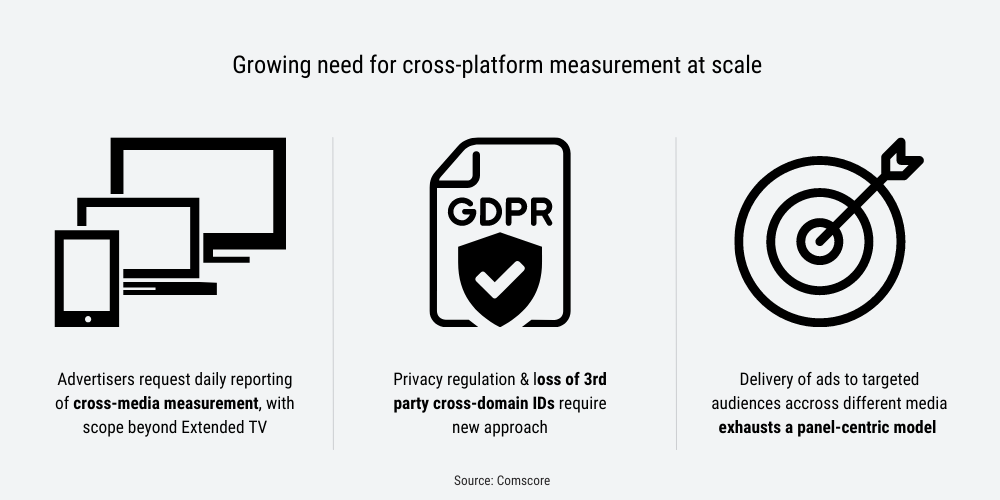 A single system of measuring TV campaigns can provide a solution
There was a lot of talk at the conference about how to provide advertisers and agencies with a single measuring system for tracking data from linear television as well as data on viewing time-shifted content and viewing content on demand. Several solutions were presented which could provide an answer.
What is CFlight?
CFlight was originally developed in 2018 by NBCUniversal which is owned by Comcast. It still supports currency measurement on one NBCU platform. Sky (also owned by Comcast) later adapted the standards and methodology of CFlight to the media market of the United Kingdom in partnership with Channel 4 and ITV.
CFlight in the United Kingdom
CFlight is the first tool for measuring campaign success, which tracks and analyses data on ratings with regard to linear TV, time-shifted content and on-demand content. It is crucial that this process does not result in the duplication of data on reach.
CFlight connects three major broadcasters: Sky, ITV and Channel 4.
Some of the key advantages of CFlight are:
measurements combine data on reach and frequency across linear TV (based on data supplied by the UK's Broadcasters Audience Research Board –BARB), broadcaster video on demand (B-VoD) as well as time-shifted content,
comprehensive campaign measurement across various devices, platforms and apps.
CFlight is still in its initial phase and the first results for ad campaigns will not be available until the 1st quarter of 2022 when Channel 4 and ITV will disclose their data. This will be followed up in the same year by an upgrade to include monitoring of campaigns and data on B-VoD as well as data on potential regional campaigns.
All of the partners involved in the project agree that the roll-out of CFlight will be a watershed moment for TV advertising.
Speakers:
+ Martin Greenbank, Head of Advertising Research & Development, Channel 4
+ Lucy Bristowe, Director of Insight and Research, Sky Media
+ Glenn Gowen, Head of Audiences, IT
CTV Walled Gardens
Is the TV world going to see the emergence of walled gardens?
I have already emphasised that changes in the way we view video content shape the entire TV ecosystem. The importance and power of data on users, which allow companies to reach their target audience, are also worth highlighting. How has all this affected the TV ecosystem? Most notably, it has created a need for cooperation between various actors [TV operators and broadcasters], who would like to establish a "closed" ecosystem with the CTV domain that will enable them to control their ad space. So called walled gardens are a product of the digital world. The major ones include Google, Facebook, Apple and Amazon – two thirds of the total digital advertising budget go to these players [according to eMarketer]. Furthermore, Facebook and Google control the largest share of registered 1st party data.
So, what actually is a walled garden? Essentially, it is a closed ecosystem wherein the operator controls all operations. Walled gardens operate with so called 1st party data and tend to employ their own technology [Ad tech] which gives them total control over the inventory.
Major players in the TV ecosystem such as Germany's RTL and Italy's Mediaset are aware of the risk of digital giants [e.g. Google, Facebook] with walled gardens taking over their ecosystem as well, that is why they seek to create their own walled garden to gain total control.
How can advertisers best exploit this situation and maximise their ad investments?
A stronger emphasis on 1st party data is required – offer consumers added value in exchange for their data.
Build partnerships: establish trustworthy partnerships to exchange data.
Trust but verify: demand reporting parameters that ensure transparency.
Speakers: PUBLICA
---
In conclusion, a few tips for advertisers:
Don't be afraid of the new opportunities offered by CTV advertising.
Test your campaigns on different platforms and devices to ensure unduplicated reach.
Use the data available to you (both 1st party and 3rd party data).
Take advantage of the possibility to segment audiences and of diverse targeting.